What is your business getting with our solution?
A process oriented management system
The process map is the core of QM365. Here, all employees find their processes with all associated documentation. Like risks, goals, links, procedures,  documents, and activities.
Several management standards in one system
QM365 provides your business with a complete management system for quality, HSE, environment, information security, food safety, and various other standards.
QM365 meets all requirements found in ISO 9001, ISO 45001, ISO 14001, ISO 27001, and ISO 22000. If you choose our Business or Enterprise setup, GDPR Management can also be included in your management system.
Integrated drawing tool
Draw your process maps with QM365's built-in drawing tool. It is simply to use with drag and drop functionality.
With QM365's drawing tool you can simply and efficiently display your processes.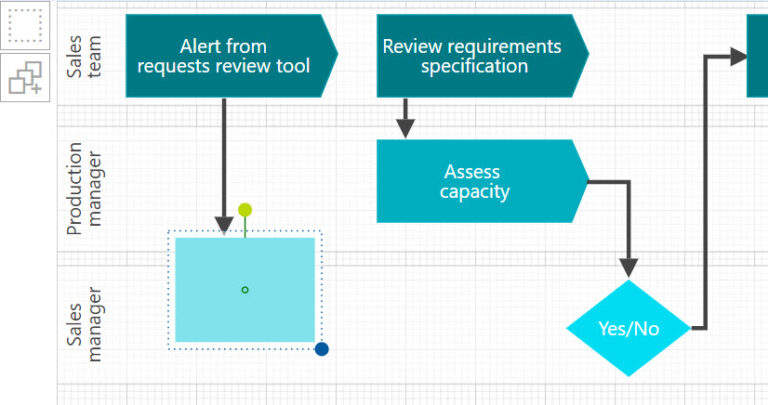 Accessible process descriptions
QM365's description field has an owner, reminders for the next review and you can notify employees when changes are made.
Traditional documents can only contain text and images. The description field in QM365 can also contain video. In many cases, this is easier to create and to use.
The process description field can replace many of the traditional documents usually required. This makes it easier and more accessible for all employees.

Deviations and improvement
QM365 has an integrated deviation and improvement system. This is a user-friendly system for registration, case processing, and reporting.
The deviation system can handle quality, HSE, information security, and environmental issues.
Your company can use automatic notifications when an employee receives a case, an action, or a follow-up. 
Besides, the manager is notified if a case is not resolved within the specified deadline.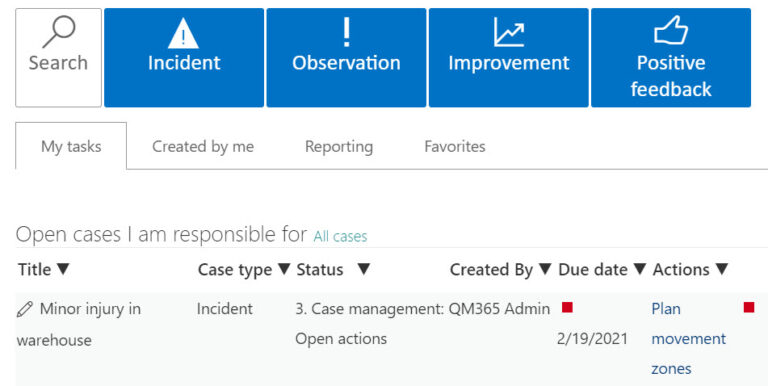 Risk management
The risk management tool allows you to work systematically with risk reduction measures. As well as threats, our system supports work with opportunities in the risk management system.
The risk management systems create an overview of both the whole organisation, but also each employee can see the risks relevant to them.
All risks are automatically added to a visual risk matrix for easy analysis.
Audits and management review
In QM365 you will find robust tools that guide you through different types of audits and management reviews. All the data needed for your reviews are in the system. It is easy to delegate tasks from the audits. This is done through cases and actions to those responsible for implementing the findings.
Requirements overview
In QM365 you can have an overview of all types of laws and requirements applicable to your business. This can be anything from ISO requirements to legal, internal, and customer requirements.
Targets and planning
Keep track of your business' goals with the integrated measuring tool. In this part of the system, goals are divided into two levels – objectives and targets.
The performance overview gives a quick insight into the set goals, together with the actions that have been completed to achieve them.